The Best Pattaya Island Hoping Destinations to Try 2019
Pattaya's Islands offer a peaceful alternative from the hustle and bustle of the busy coastal city. Some of the islands are particularly big with the vast majority remain uninhabited. Many of them being ringed with beautiful sandy beaches and crystal clear water. These tranquil islands will provide some great spots for snorkelling, diving and fishing. With none of these activities or attractions being widely available or feasible on Pattaya Beach.
Reaching the islands around Pattaya is fairly easy. The inhabited ones have a regular ferry service available from nearby ports while the ones without a permanent population can be reached by hiring a speedboat for the day or taking an arranged island cruise.
All of the mentioned depart from the main Bali Hai Pier or Ocean Marina Yacht Club in Na Jomtien. Broadly speaking, the islands are separated into the 'Far' and 'Near Islands', depending on their distance from Pattaya.
#1. Koh Larn (Coral Island)
Koh Larn is the biggest of the neighboring islands which can be easily reached from Bali Hai Pier and is the only island near by with a resident population.
There are a few small hotels, both in the village around the main pier on the island (Na Ban Pier) and around the biggest of the island's beaches. There are six main beaches: Samae, Tien and Tawaen beaches all have accommodation options while Naul, Tonglang and Tayaiy beaches have at least one restaurant, jet ski hire, banana boat rides etc.
While snorkelling is possible and the corals are nice, the large amount of boat traffic means you need to keep your wits about you. Koh Larn has a small network of block paved roads and lots of songtaews and motorbike taxis around to get you to the beaches. There is a regular ferry between Bali Hai Pier and Na Ban, which takes about 35-55 minutes and 30 baht per person each way. You can also charter a speedboat to take you and up to nine others to any of the beaches for between 1,500 and 2,500 baht, taking only about 20 minutes to cover the 7km to the island. You can also share speedboats paying around 200-400 per head single or returns.
#2. Koh Sak
Once a private resort visited by the rich and famous, the U-shaped island has no more than two pristine beaches with a path between them. The north beach is about 250m long and very popular for sunbathing and swimming and with a few small restaurants. Diving tours often visit the coral reefs and the shipwreck close-by.
If you want to take a trip back in time, walk along the path in the middle of the island and you will find footprints left in concrete by famous feet, including Neil Armstrong's just a few months after he came back from the moon!
The only way to reach Koh Sak is by private speedboat charter from Bali Hai Pier.
#3. Koh Krok
The closest of the Pattaya islands is also one of the smallest – just 100m long, with a sandy beach along the eastern coast and a rocky shore to the west. The beach has a few dining options, sun loungers, jet skis and banana boats, but no accommodation. The corals near the island are good for snorkelling and diving. Speedboat charter is the only way to reach the small pier on Koh Krok.
#4. Koh Phai (Bamboo Island)
Bamboo Island – or Koh Phai – is the biggest of a small island chain, which also includes Koh Klung Badan, Koh Luam, Koh Luam Noi and Koh Man Wichai. Located about 23km from Pattaya, it can take as much as two hours to reach them. Koh Phai is under the supervision of the Royal Thai Navy, meaning that there are no permanent facilities there and visitors are not permitted to stay overnight. Sunbathing on the pristine beach and swimming or snorkelling around the excellent coral reefs is permitted. The reefs around all of the islands in this chain and the nearby wreck of the HTMS Khram are among the best scuba diving sites around Pattaya. There is no ferry service operating to the Koh Phai islands, making the best way to reach them a speedboat charter from Bali Hai Pier.
#5. Koh Rin (Gnat Island)
Gnat Island is a tiny piece of paradise that has perfect beaches, stunningly clear water and beautiful coral reefs. Divers and snorkelers can also see a resident family of sea turtles on the island.
The sea around the island is part of a Royal Thai Navy gunnery range! Don't worry; it is perfectly safe to visit and is, in fact, extremely popular with sun worshipers. More commonly known as Koh Rin, this spot is on the itinerary of most of the island cruises sailing out of the Ocean Marina Yacht Club and can also be reached with a speedboat charter.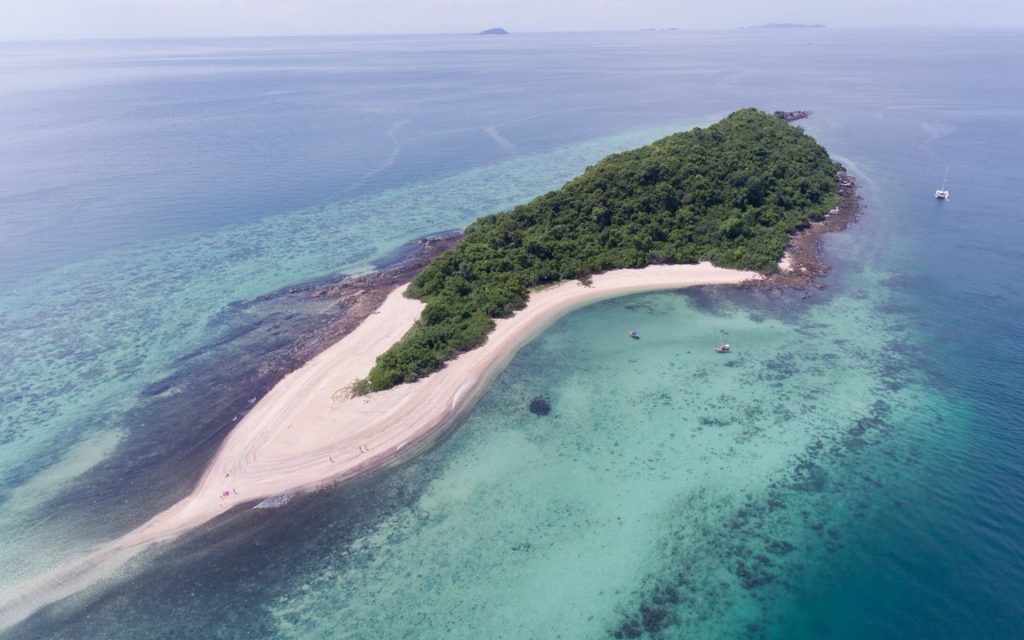 #6. Koh Khram
The fact that the large Koh Khram is arguably one of the most beautiful Pattaya islands only makes it a greater pity that it is owned by the Royal Thai Navy and is therefore largely off limits. The boat charter services from Ocean Marina Yacht Club sometimes make a short stop on the pristine beaches, but staying for any longer than an hour is generally impossible. The fact that there is literally nothing on the island makes it a real Robinson Crusoe experience.
#7. Koh Klet Kaew (monkey Island)
While its actual name is Koh Klet Kaew (sometimes called Koh Ped), the small jungle-covered island is almost always known as Koh Ling – Monkey Island. Not surprising due to the large resident population of crab-eating macaques. The regular visits by charter boats and island cruise trips mean that the monkeys are well accustomed to interacting with humans and they will come running at the first sound of engines to get the fruit which visitors bring.
#8. Koh Si Chang
The closest island to Bangkok and a former royal retreat, Koh Si Chang is particularly popular with locals. Haad Tham Phang (Collapsed Cave Beach) is the favourite of the few stretches of sand you will find there. Other attractions include swimming and kayaking between the practically deserted coves and walking or cycling around the pagodas, shrines, temples and the remarkable Yellow Buddha of Wat Tham Chakrabongse. The island has a range of excellent local restaurants and several accommodation options, which are great places to enjoy the island's peace and isolation and the quaint fishing-village vibe of the main town. There is a regular ferry service between the Sri Racha and Koh Si Chang, which costs 40 baht per person and takes about 15-20 minutes each way.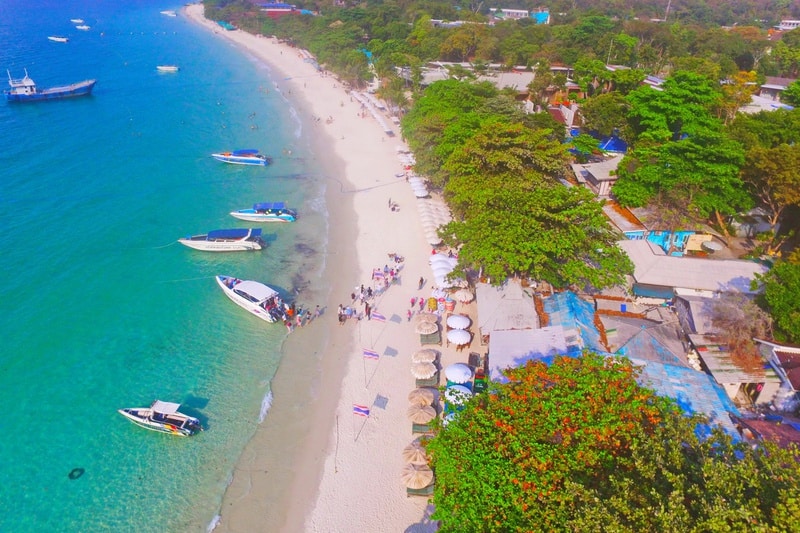 #9. Koh Samet
A small island off Rayong (about an hour's drive south of Pattaya), Koh Samet has sheer cliffs along the west coast and gorgeous beaches along the east coast. It is a favourite weekend retreat of Bangkokians and Pattayans, particularly among young people and students who like to party as the main town has an active nightlife. There is even an annual Thai pop and rock music festival there!
Koh Samet has a good selection of hotels, ranging from very basic bungalows up to five-star resorts. The roads on the island are mostly unpaved, making the favoured mode of transport ATVs, but there are also some songtaews and the island is small enough to walk. The beautiful blue seas around the shore are great for swimmers, snorkelers and scuba divers.
There is a regular ferry service from Ban Phe Pier in Rayong, which costs 200 baht and takes about an hour to reach Koh Samet. As with all Pattaya islands, you can also get there by chartering a speedboat, which can do the trip in about 20 minutes.
DISCOVER HOW TO FINANCE EARLY RETIREMENT TO THAILAND!
Fill in your details below
We will get back to you soon.
Usual response time 60mins.
100% Secure. We do not share your information with any 3rd party companies.