Buying Property in Thailand for Your Retirement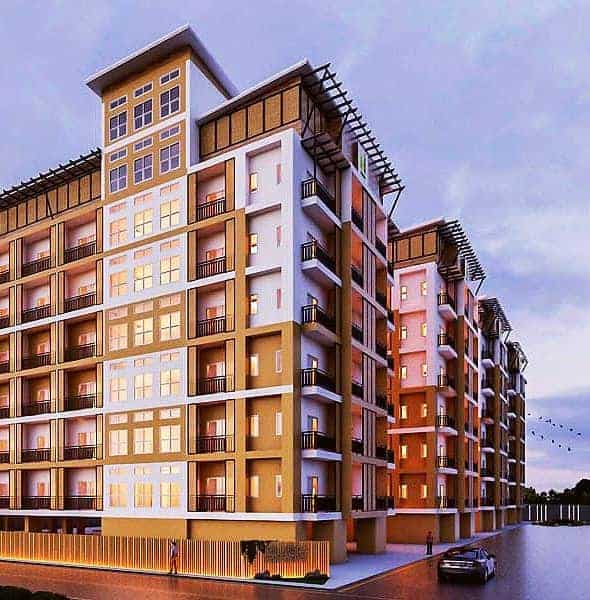 100% PASSIVE INCOME
Hands-off Rental  Guarantee Investment
Paid monthly or quarterly
Buying Property in Thailand
Buying property can be a daunting experience, especially in a foreign country. The good news is buying a property in Thailand isn't very difficult, and after reading our guide you will have a complete understanding of entire the process.
Before you go diving in head first, it's important to understand some of the fundamentals.
Working with an Estate Agent
As you're looking to buy property in a foreign country you'll need expert local assistance.
Local real estate agents will save you time and remove any hassle when it comes to searching, viewing and ultimately buying your dream retirement home.
A big advantage of using a property agent is that they will act as a liaison between you and the Seller. They will act on your behalf to negotiate a the best possible price for you.
Location, Location, Location
Before we go any further, let's cover the most important factor when it comes to buying property in Thailand. Choosing the correct location.
Thailand is a fairly large country, there are lots of urban communities, towns, cities and resorts which are extremely popular with expats and retirees.
Of course, it's horses for courses and each to their own. But, we have a shortlist of locations we feel are amongst the most popular destinations for retirees in Thailand.
Generally speaking, people buying property in Thailand to live in, have already spent a lot of time living or holidaying in that area, therefore know what to expect before the big move.
Before committing to buying a property, we advise you to do the same.
Explore your options, spend some time travelling other parts of Thailand you've not visited before. Spend a good few weeks living in some these different regions. You might surprise yourself and fall in love with a completely different part of Thailand you never considered for your retirement before.
Foreigners cannot buy Land in Thailand in their own name.
It's important to understand that the following information is aimed at anyone looking to buy a house, or acquire land to develop a property or properties.
So, Thai law prohibits foreigners purchasing land in Thailand in their own name, but what exactly does this mean and how does it effect us buying property in Thailand?
There are two main ways around this law that will allow you to legitimately buy property in Thailand.
1. Create a Thai Limited Company to Buy Property in Thailand on Your Behalf
When the time comes to purchasing your property, your real estate agent will walk you through your options and will most likely suggest setting up a Thai limited company.
This may sounds complicated or a little extreme, but it's really simple and the most common approach for foreigners buying property in Thailand.
Your real estate agent will put you in touch with their legal advisors with a set up a cost of around £1000.
Check out this article for more information on Thai limited companies
2. Buying Property in Thailand with Long term Leasehold Agreements
The other option is buying the property through a leasehold agreement with the land owner for a period of 30 years with a renewal clause.
So, you'll register for a standard leasehold and then extend it for 30 years at a time. This leasehold option will cost you about £1500.
Again, any reputable estate agent will walk you through the leasehold agreement process.
Check out this article for more information on Long term Leasehold Agreements
3. Other Options to Consider
Buying the property in your spouses name. If you're married to a Thai national and have complete trust in your partner, then buying a property in their name could be the way forward.
Much like the above approach, if you have any kids who have Thai passports, and are 18 years or older you can also put the property in their name.
House or Condo?
When looking to buy property in Thailand, there are a few things to consider. Which is the best location for me? Is this property big enough for my needs? Should i buy a house or condo?
As we mentioned in the section 2, a foreigner cannot simply buy a house in Thailand. You need to either, purchase through a Thai limited company, through a nominee, such as a spouse or child, or through long term lease agreements.
Condos on the other hand are open to 100% complete ownership by foreigners with no red tape or hassle.
Putting ownership details aside, what is the best type of property for foreigners to buy in Thailand, houses or condos? Well, as you would expect, it's down to individual circumstances. Some peoples situations will be better suited to living in condos, while others are better off living in a house.
Unless you're looking at penthouse condos, a house will generally be bigger than a condo. But, depending on your budget and lifestyle, you might not need or want lots of unused space.
So, you'll need to figure out how much space you'll need and also what kind of lifestyle you lead.
How many people are living with you?
Do you own any pets?
Do you have any friends or family coming out to visit you?
Do you have a vehicle or plan on buying one?
Do you want your own garden or private pool?
Being located closer to amenities, public transport and the beach might be important to you, so a condo would make sense.
If having an abundance of space with a private garden is top of your list, then a house will most likely be your best option.
Location
After you've decided which part of Thailand you're going to be retiring to, you need to consider what location is better suited to your lifestyle.  Again, choosing your location will be down to personal preference.
Typically you'll find condo developments are more conveniently located compared to houses. So beachfront, city center or just outside city center locations. Condo's will be within walking distance to banks, shopping centers, hospitals, bars & restaurants, public transport, beaches and supermarkets. But, the hectic life of city center living might be too noisy for some, for others they prefer to be in the thick of the action.
Housing estates are generally located in suburbs or outskirts of a town, or city, in more rural areas. If you have a car or don't mind using public transport for your daily commute or trips to the beach then a housing village could be for you. You may find being part of a community inside a housing village to be more attractive. If you have pets, kids or family and friends coming to visit then a house will also be more accommodating.
It's not uncommon to find a house or housing village close to city centers, beaches and amenities. But, you will find they are much more expensive compared to their rural counterparts.
Facilities
Condos are more likely to provide facilities such as a gyms, swimming pools, laundry services, little shops and possibly restaurants right on your doorstep.
Houses on the other hand may have private gardens, private pools, large European styled kitchens and outside Thai kitchens, but might not have a lot else to offer.
If facilities are your main concern then living in a condo will probably be the best choice for you. However, if you enjoy gardening, home cooking and the benefits of a private pool then a house will be a better fit.
Maintenance
Are you the type of person who enjoys getting their hands dirty, mowing the lawn, washing the windows, cleaning the drive or making sure the pool doesn't turn green? If you are, then your maintenance costs on a house wont cost much.
It's understandable that a lot of retirees want the benefits of living in a house, but without the hassle of chores, DIY and general maintenance, and who could blame them. In this situation you'll need to employ some locals to do it for you. While this is easy enough, it could start getting expensive.
Condos on the other hand charge its owners a maintenance fee which is considerably more affordable. The small fee is usually paid monthly, and covers expenses of staff salaries and the cost of keeping everything well-maintained.
If you're buying property in Thailand for a low cost, hassle-free lifestyle then condos are more likely to be the choice for you.
Arrange a Viewing
So, you've decided where you want to retire, what kind of property you need, and what your budget is. You've gone online, shortlisted a few properties from a real estate website and now it's time to contact them to arrange some viewings!
After reaching out and making contact with a property agent they will want to know how serious you are about buying property in Thailand. A common response is asking you 'When you're next in Thailand and available to view some properties?'. Which is fine, we aren't looking to waste anyones time. So give them some dates you're available on and arrange a meeting at their office.
Make a Deposit
When you feel 100% happy with the property you want to buy, you will be asked to make a deposit to show your good faith to continue the process of buying your dream home.
This is common practice, not just when buying property in Thailand, but anywhere in the world.
After the seller receives a deposit, they will reserve the property for you and your property agent will start the process of drafting up the contracts for completing the purchase.
The money deposited is non-refundable unless you specifically had a "get-out" clause in the deposit agreement.
Completion Day!
After making your final payments on the property you're buying, it's time for completion day! Completion day is when the buyer picks up the keys for their new house and the ownership will be transferred from the seller to the buyer.
That's it! The entire process of buying property in Thailand. We hope this guide gave you some valuable insight and helped explained what to expect when buying property in Thailand.