Thailand is home to some of the best massage parlors in the world. Traditional Thai massages are hands down one of the best things about traveling through the Land of Smiles. They are cheap, incredibly relaxing, and an experience you cannot miss out on. Here is everything you need to know about Thai massages.
History
This ancient therapy is old, and we mean dating back some 2,500 years. Its origin is said to have come from India, during the time of the Buddha. The physician to the Buddha, Shivago Komarpaj, is said to have created the Thai massage. As Buddhism slowly started to make its way to Thailand, the massage technique came with it. Thai traditional massages were, and still are, used in conjunction with other traditional medicines.
Health Benefits
The benefits of receiving a Thai massage are vague, at best. While it is easy to say that Thai massages are good for you in the short-term, any scientific evidence backing this information is certainly lacking. That being said, there are some obvious benefits. For one, it feels incredible. It relieves stress and tension in joints and muscles. It is also very good for those of you feeling stiff, especially during travel, as you are stretched throughout the massage.
Some studies are backing the benefits these massages claim to have. One study suggests that a traditional Thai massage could be used as a complementary therapy for autistic children in Thailand. Another study suggested that patients suffering from back pain associated with myofascial trigger points (the connective tissue that holds us together) should consider receiving Thai massages as an alternative primary health care treatment.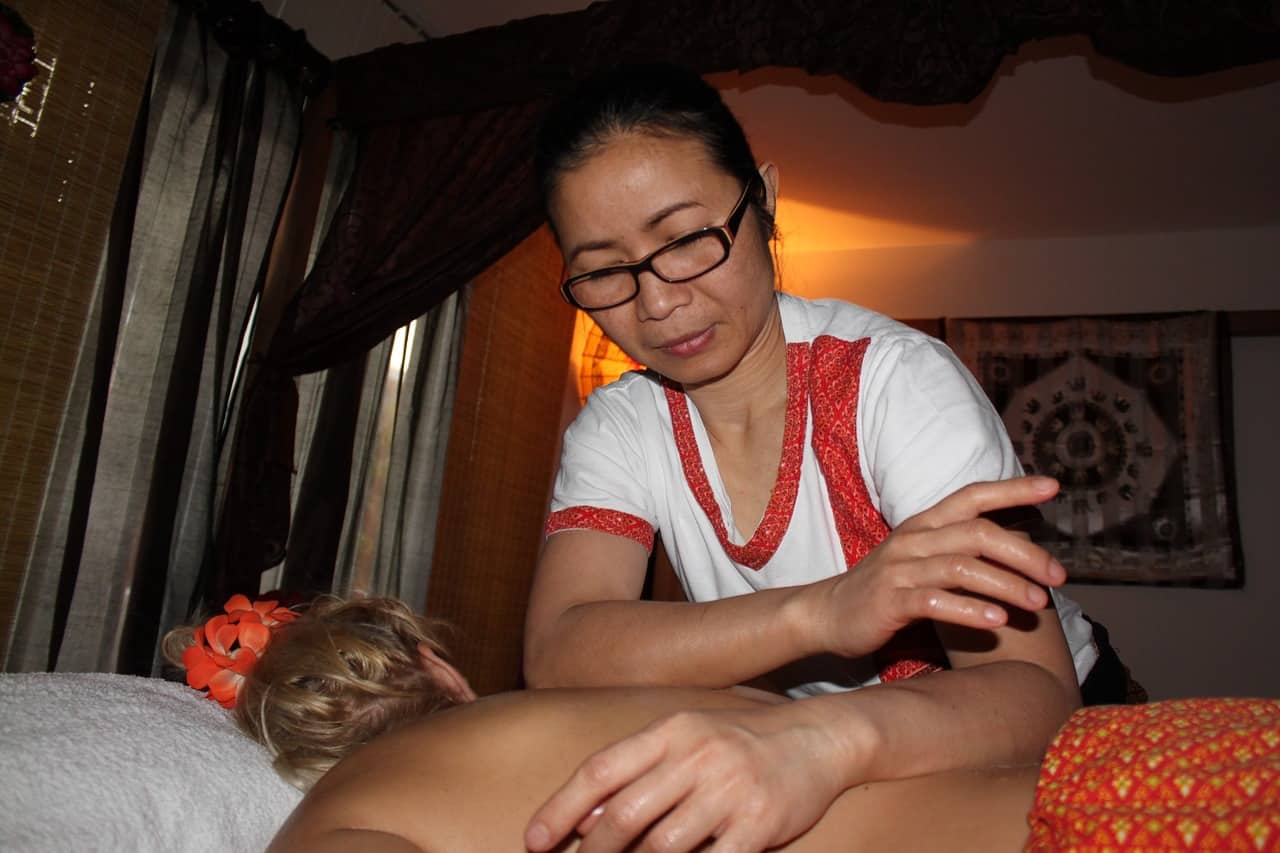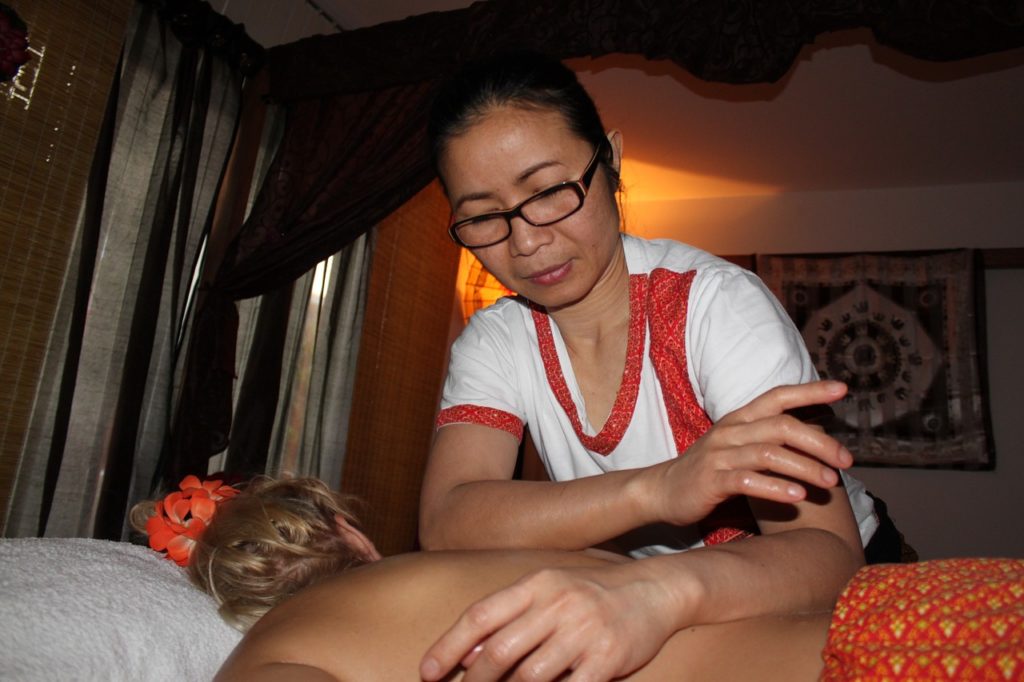 What To Expect
Getting a massage can be intimidating. Many of the parlors don't have English speaking employees, which can make things incredibly awkward. Do you keep your clothes on? Do you have to change into the scrubs that were just handed to you?
For most Thai massages, you will be given a shirt and pants combination, then led to a changing room or bathroom. You can wear your own clothes, but it is a much more relaxing experience to wear the clothes provided to you. They are loose fitting, clean, and comfortable.
During the massage, you will be pulled, stretched, and rocked at the hands of your Thai massage therapist.
They will use every part of their body in order to do this, including their thumbs, elbows, and knees.
Some masseuses might even walk on you. This approach is completely different than massages that Westerners are used to. You are not kneaded, and Thai massages certainly are not gentle. It is important to note that oftentimes, Thai massages can feel like unpleasant, if not painful experiences.
Usually, the masseuse will make it more or less intense depending on a person's size and age. In case they seem to be unaware of the pain they are inflicting, tell them "jep", which means hurt.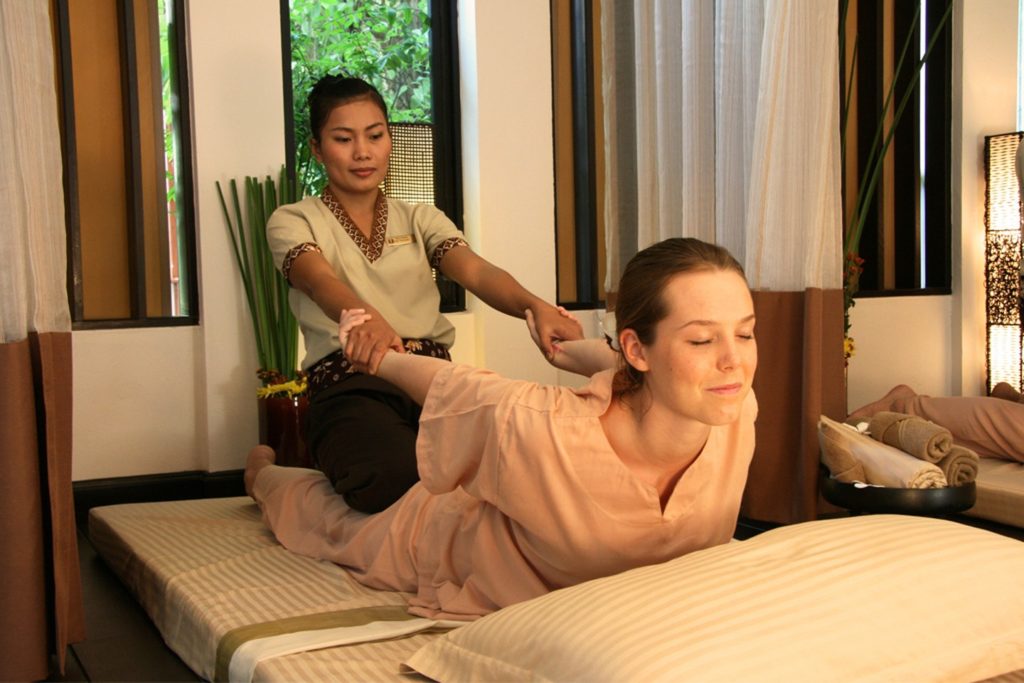 Happy Endings
Thailand has a reputation for its red light districts and sex industry. This can make getting a massage … interesting. To avoid any awkward encounters with a service you do not want, stay out of the seedy areas and questionable massage parlors.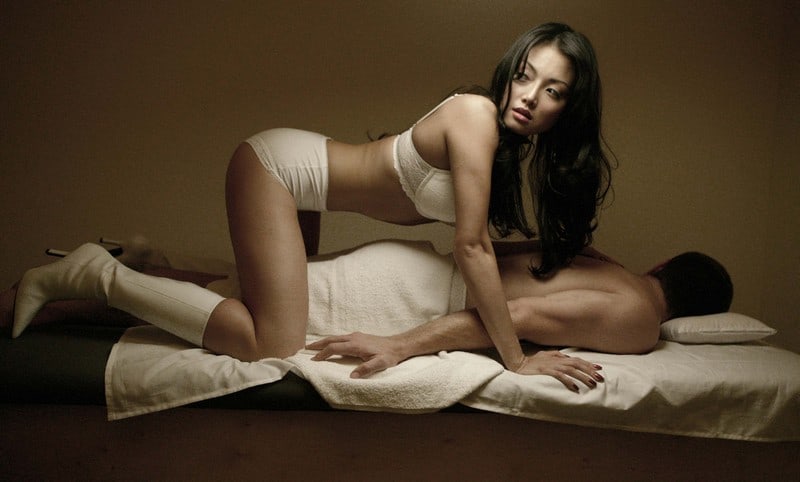 Pricing
The cost of a Thai massage will really depend on where it is you go. You can get an amazing, one-hour Thai massage for ฿200 (about $6), but the salon itself might be less than luxurious. You can opt for one of the more expensive options, with the same massage, for upwards of ฿500 (about $15). While tipping is not necessarily a custom here in Thailand, we do recommend you tip your masseuse. The massages are incredibly cheap, and these people's jobs are simply exhausting.